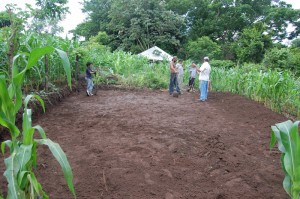 Today we woke up at 6, so that we could have breakfast and leave by 7.  Our group split in two today, each half going to the two different building sites.  Our group piled into a van smaller than mom´s van, but big enough to hold 18 people!  The car ride took about 1 1/2 hours, and the final half hour was spent on a ¨road¨ that the van could only drive half way on.  We walked the last 1/2 mile by foot because the road was barely cleared away.  We were truly in the middle of the jungle.
Our site was in the middle of a corn field, literally.  Maria had cut a 450 square foot clearing of corn, but that was just the first step.  Our job was to clear the rest of the area, and level out the dirt for a good foundation.  The slope wasn´t too big, but it took 8 hours and 25 people to level it out.  In the late morning, it began to thunder and a light rain poured for the rest of the afternoon.  We only had to stop once to find shelter, and for the rest of the time we worked in the rain.  The humidity here is so high that once we were wet, we never dried.  We rode home soaked from sweat and rain and tears (mostly Jeremy´s tears).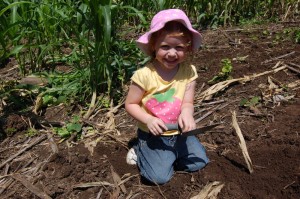 Caedmon was a fantastic helper today too!  She used a small trowel to help us shovel the dirt, stopping only occasionally to master the art of peeing in the bush.  When asked what she wanted to contribute to tonight´s blog, she said, ¨Grandpa Jess and Nama, they love me, and I love them.  Oh and tell them that I was a ballerina today in the field.¨
One more thing, praise be to Jesus for this one . . . we discovered that we DO have hot water in the evening.  So today we greatly appreciated that blessing after a hard day´s work!
jps and jns and jjs and jzs and jds and jfs (hee hee hee)