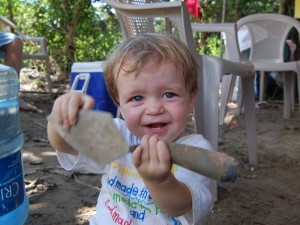 Back at building today . . .
Our task was to dig 6 trenches about 4 feet deep by 1.5 feet wide by 24 feet long on our previously made level ground.  Everyone worked really hard, and the sun seemed to beat down on us stronger than ever.  Levi even lent a shovel, although he preferred to eat the dirt, rather than put in the pile like everyone else.  He let Alma (a wonderful adopted mother to both our kids) take him to the stream too.  Both kids enjoyed playing in the cool water to combat the heat and humidity.  Caedmon also helped dig today.  Although, we were pleased to see her opting to play with the local children too–something she has been shy towards so far.
Caedmon´s note to you all today is, ¨I digging!  And tell Papi I see a duck.¨
Here is a picture of our progress as of today.  Tomorrow we will fill the trenches with about 5 inches of sand and then compact it all with homemade cement buckets with attached sticks.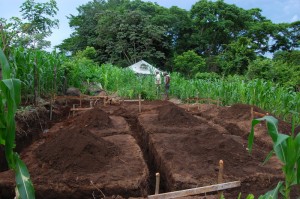 At the end of the day, the truck that has been carrying the sand to our worksite got stuck in the river we´ve been crossing by foot.  We unloaded the supplies and carried them up by foot, but as for the truck . . . three of the young boys will be spending the night in the truck so that nobody steals parts or the whole thing (apparently not an uncommon thing around here).
Back to work tomorrow!
The Serranos