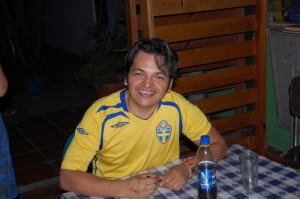 This evening we were treated to an amazing story of a young man who grew up in El Salvador during the civil war.  His name is Christian, and he is 32 years old.  We could never retell his story with the passion he can, but here are some of the details that impacted us:
When Christian was 4 years old, the civil war started because the poor revolted against the government over poor working conditions and wages.  In an effort to squash the rebellion, the government sent the military to the rural areas to kill the peasants and crush moral.  They went to Christian´s village and the adults fled the village, hoping to draw the military away from the children.  The soldiers went through the village and killed all the children anyway.  Christian´s brother and sister were slaughtered.  He was thrown against the kitchen wall by the soldiers and was knocked unconscious.  Thinking Christian was dead, the soldiers left.  When he woke up, everyone in the village was dead.  He stayed with his dead family for two days and fought off animals that were trying to eat the bodies.  When his parents returned, they found him the sole survivor of the village.
He spent time in a refugee camp in Honduras, and when he returned to El Salvador, he was conscripted to join the guerrillas at the age of 12.  Through a chain of events outside of his control, he left the rebels at 13 and found the Lutheran Church who gave him a job and paid for his school.  He eventually had to flee to Sweden to a refugee camp there because of death threats against his life.  When he finally returned to his home country, Bishop Gomez found him a job as an artisan painting crosses and other objects.  He now travels to many countries, speaking to youth and churches about social injustices for all people.  He sells his art to make a living, and he helps raise money for the Church to fight poor conditions in El Salvador and other countries.  His one dream in life . . . to build a new church for the Bishop.  The cost: $150,000 which he has raised $9,000 towards.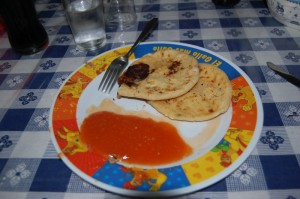 And now back to our story . . . In answer to some of your questions, the food is just fine here.  It consists of a lot of beans and a lot of rice, but it´s definitely yummy.  One of their national foods here is pupusas.  It is basically a tortilla with cheese or beans cooked inside of it.  Jeremy took a picture of his dinner tonight so you can see it.  He also has some red sauce/salsa on top for added flavor, but it is not hot.  Spicy is not characteristic of Salvadorian food.  Levi is downing the rice and beans and rocks and dirt just like he does back home.  In fact, he quickly earned a reputation for being a Good Eater.  Caedmon is substaining herself on chicken, Frosted Flakes, and peanut butter sandwiches.  Nama´s promise of Horchata and a sweet roll when we return was met with great joy.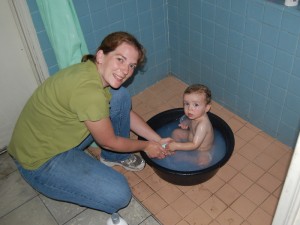 For the curious, we´ve included here a picture of how the children are keeping clean.  We bathe them once a day in this little tub, and then bathe them two or three times a day in bug spray.  So far, it´s working.  They´re clean and bite free.  Jeremy, however, has been taking bites for the team.  Though he puts on copious amounts of bug spray, he still looks as though he´s contracted the measles on his arms.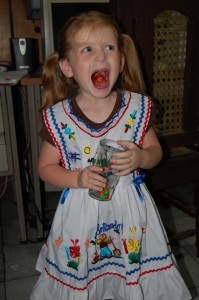 This last picture is of Caedmon showing off two exciting things from her day today.  I bought her a dress at the local market in Suchitoto, and we found M and Ms at the super yesterday.  Her comments this evening, ¨I want my blanket and you, Mama.  I want more M and Ms at the lunch party tomorrow.  And I want to watch Cinderella and Tarzan when I get home.¨
Finally, the report from our work site: not much happened.  We worked for a few hours in the afternoon compacting more sand mixed with dry concrete.  Jeremy stayed home to help the children rest.  Tomorrow we work a half day with concrete and rebar, and then have a celebration to end the week!
Thanks for all of your comments.  They´ve given us renewed energy!  Sleep well, our American friends!
Jess and Jer