Warning
: Invalid argument supplied for foreach() in
/home/jpserran/public_html/wp-content/plugins/flickr-carousel-gallery/flickr_carousel_gallery.php
on line
136
Warning
: Invalid argument supplied for foreach() in
/home/jpserran/public_html/wp-content/plugins/flickr-carousel-gallery/flickr_carousel_gallery.php
on line
167
Part of the requirements for my pastoral internship is that I complete some sort of project.  Here it is.
The Project
The Church's context: I noticed that the church is near a high school and many youth walk by the church on a daily basis.  For several days I stood outside the church during the half hour or so youth were walking home and counted how many young people passed our building. So I put a plan together and put the following note in the church's weekly bulletin and monthly newsletter.
Have you ever noticed the number of young people that walk by Faith Lutheran Church on a weekday? For three weeks I decided to count the youth that pass by the church. Each time it was over 120 middle and high school youth (I usually stopped counting at about 120).

Haley and I have come up with an idea to reach out to these young people.

Here's the plan: On the FIRST FRIDAY of the month, we're going to set up a table on the front lawn of the church and greet these young people as they walk by the church on their way home from school. When it's cold, we will offer them hot chocolate and treats. When it's hot, we will offer them something cool to drink and a snack. Additionally, we will be passing out information about the youth group and afterschool programs.

The goal is to make known the hospitality of our church to the youth who are in our community.

The mission statement of Faith Lutheran Church reads:
"Faith Lutheran Church is a community centered in the good news of Jesus Christ. Our mission is to share that message of God's love with one another, our community, and the world."

This ministry of outside hospitality will be sharing the message of God's love to the youth in our community. We will this outreach ministry Friday January 11, 2013 and will continue it on the first Friday of the month during the school year. But we can't do this alone. We need your help.

Here's how you can support this endeavor. We need supplies. For this first month we need individual packages of hot chocolate mix (at least 120 individual packages) and individually wrapped bags of chips.

If you would like to support this new ministry please bring a box of individual packages of hot chocolate mix or a box of individual wrapped bags of chips to church by January 6, 2013. That's the Sunday before we want to start this outreach.

Also, if you're interested in sitting out on the front lawn, meeting young people, and inviting them to church please talk to Haley or Jeremy. We would love to have you join us—no one is too young or too old to be a part of this.

Jeremy Serrano Intern Pastor
Almost immediately I got 2 volunteers.  Now this may not seem like much, but for a church our size it is a worthy number.
The Philosophy Behind The Project
This ministry is about making ourselves known to youth in the community who are unaware of our presence, or who are only aware of our location and that's it.  The goal is to move young people into deeper levels of relationship with the church.  I think about it in terms of concentric circles.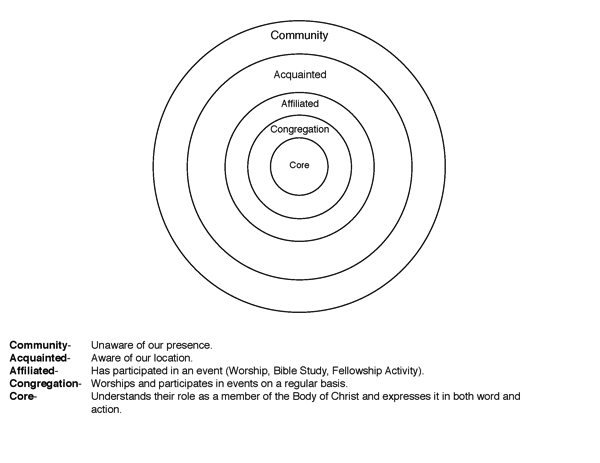 So, I am trying to help people identify their relationship to our church and aide them in moving into a more center ring in the circle. I aim to get "community" people to become "acquainted" people AND "acquainted" people to become "affiliated" people.
I think a similar graph identifying one's spiritual journey in the Christian faith can be made. However, the path through the circles is a lot more messy than the one above and the titles of the circles is different.  
Now, with this kind of model people can easily be objectified and seen as either "wins" or "losses" depending on their movement through the circles.  But, I don't assign these kind of value judgements.  I use this chart to help me organize ministries and help to focus purpose.  
Here is some photos from our First Fridays.
(The banner and cards we used are made by Shawn Cummins.  I highly recommend his work.)
-jpserrano
How do you organize your ministries?  
What kind of philosophy do you have that undergirds what you do as a congregation?
What ministry philosophy has been helpful for you?