Yesterday, after we returned home from the market, we ate one of El Salvador´s cultural dishes . . . the pupusa.  Jessica helped make them!  It´s basically a tortilla filled with cheese or beans and then grilled on a hot stove.  And yes, Isaac, they really were delicious.
In case you were worried about the children, they are getting along fine with the new food.  Levi, of course, eats everything with a passion, much to the grin of the people here.  Caedmon has been a bit more finicky, but she has enjoyed the rice at every meal.
Today we woke up about 7 (that´s 6 your time) to go to church.  Jer and I took a shower, but there is no hot water here.  I´m afraid we may have woke up the rest of the camp with our screaming.  We opted to shower the children later, when cold water might be more appreciated.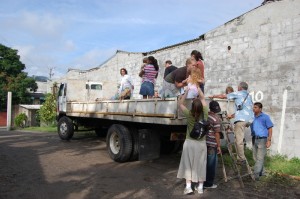 To get to church, a large flatbed truck rolled up, and a ladder was found so we ladies could climb in.  There were sides on the truck that were tied together with a rope so that we would not fall out.  Caedmon and Levi rode on our laps, and Caedmon mentioned a few times, Where are the seatbelts?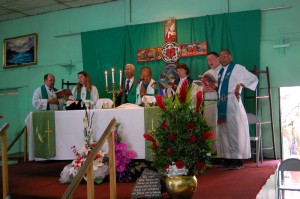 Once at church, Jeremy and the other pastors in our group robed up in albs and helped perform the service with the bishop of El Salvador´s Lutheran Church.  Jeremy helped serve communion and at the end the bishop handed him the cup and nodded to him to finish it off.  (Keep in mind the El Salvadorians use real bitter wine here.)  I noticed Jeremy stumbling a bit later on from the full glass of wine he consumed but he did well to not fall over.
After church the children there lined up to give us hugs and present us all with crosses to wear.  Then because they know it´s something we enjoy, they had coffee and doughnuts for us to munch on.  Lutherans in the world can always unite on coffee and doughnuts!  The youth had also prepared some dances to show us.  They were a combination of hip hop music from El Salvador and the US.
Tomorrow we begin the labor. . .
Jessica and Jeremy (Caedmon is napping and Levi is eating)