Wednesday morning came far too early today, as we rolled (and groaned) to get out of bed.  The kids woke up before the alarm clock this morning, which always adds more pain to the punch.  Nevertheless, we were ready to go by the time the van arrived–although Jess snoozed a bit more on the ride over.
And let´s talk about the ride for just one moment.  Our driver is a master in the art of Salvadorian driving.  The yellow line in the middle of the road sometimes designates the division of lanes.  Most of the time it acts like the guide rail on the Disneyland Autopia ride.  Our driver can also amazingly manuever around chickens, dogs, people, parked  cars, and oncoming buses without ever using the brake or turn signal–in fact the van might not even have a turn signal.  Once we survive the gauntlet of the city and highway, we make a sharp right turn onto the good part of the road through the jungle.  This road has bricks and stones laid through it to help the tires grip the road better.  The angles are steep and today, most of us had our fingers crossed that we would not slide back down the hills we were trying to climb.  And the deterioration of road continues the deeper we go into the jungle and the closer we get to the build site.  Finally, the van parks, and we hoof the last 1/3 mile.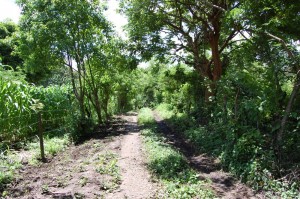 Don´t let the picture deceive you . . . This road is hilly, muddy, and difficult to manage carrying two children and our supplies.  We only took the picture here because there was enough light to get a shot, and this flat part was a good opportunity to stop and breathe.
The rain from Tuesday had made the ¨road¨ and build site sopping wet and very muddy.  We arrived at our site to find the trenches we had dug the previous day with a thin layer of water in them.  We had to then dig a drain to let the water out of the trenches.  Today we did a lot of waiting, for supplies to arrive and for the mason to plan things just right.  But we did accomplish one thing: we filled the trenches with about 8 inches of white sand and then compacted it all so that a firm foundation would be set in place.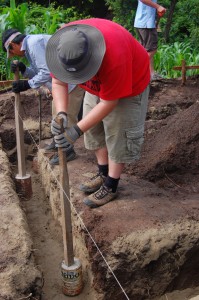 As we blog tonight, lightening is flashing and thunder crashing.  We hope that our build site is far enough away as to avoid the brundt of this storm.  But don´t let our words fool you–our spirits are still high and we are having the time of our lives!  This has been a marvelous trip thus far!
We really see God working in the lives of the people whom live here and those whom have come to build a simple house.  Hasta manana!
J and J
P.S. Caedmon´s comments are as follows:
¨I love Hope (her new friend here).  Oh, and I do ballerina, like spinning and like this (raising her leg).¨  This trip has turned her into a HUGE ballet fan for no explicable reason.  Be prepared for her to show off her moves when she returns. 🙂