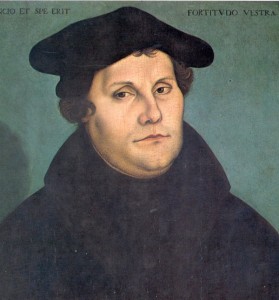 At PLTS, a popular phrase quoted is two words from Martin Luther.  Students will triumphantly announce something like, "Well, Luther tells us to SIN BOLDLY."
It seems it is more often than not used as an excuse to allow sins (not Sin) to continue in the life of the believer.  It has become a license to allow breaking the commandments–behaviors that transgress the way God would have us live as members of the Kingdom of God here and now.
It also appears that the whole sentence where those two words came from has been lost.  The phrase is taken out of context, much like the verse from the Bible I see in a lot of church kitchens "Eat, drink, and be merry . . . (for tomorrow we die."). I think most may not even realize where it comes from.
Here is Luther's full letter to Melanchthon, with the oft-used quote in it's original context:
"If you are a preacher of mercy, do not preach an imaginary but the true mercy. If the mercy is true, you must therefore bear the true, not an imaginary sin. God does not save those who are only imaginary sinners. Be a sinner, and let your sins be strong (sin boldly), but let your trust in Christ be stronger, and rejoice in Christ who is the victor over sin, death, and the world. We will commit sins while we are here, for this life is not a place where justice resides. We, however, says Peter (2 Peter 3:13) are looking forward to a new heaven and a new earth where justice will reign. It suffices that through God's glory we have recognized the Lamb who takes away the sin of the world. No sin can separate us from Him, even if we were to kill or commit adultery thousands of times each day. Do you think such an exalted Lamb paid merely a small price with a meager sacrifice for our sins? Pray hard for you are quite a sinner."
So then, this whole letter is doing several things.  First, it is an indictment of who we are.  Luther is clearly saying to Melanchthon that we (people) are sinners and because of our fallenness, we will continue to sin until the second coming.  I believe that Luther is using a hyperbole here in order for us to understand exactly who we are.  Our sins are real; they are not unimportant nor minimal…they do matter. Luther is trying to tell those people who think they are pretty good, except for those little sins here or there, that they are in fact really big sinners and should see themselves as big sinners.  Hence why he says, "be a sinner."  What I hear in this is an admonition for me to own the state I am in now and a recognition that I am not a saint on my own.  Nowhere in here do I hear Luther giving permission to sin–which is the way I hear the quote often used.
Secondly, we need to own our sin and understand it to be real, in order for grace to be real.  If we have fake sin, then we don't need grace.  If our sin, however, is real, then we in fact need a grace that is real.  What I hear in this is more about God's grace to forgive and continually seek me out rather than doing whatever I want (or as it is more popularly summarized: SINNING BOLDLY!)
Lastly, what is missed in not quoting the whole phrase Luther uses is the admonition to let our trust in Christ be stronger than the sins we commit.  Luther is telling Melanchthon (and us) that our trust in Christ is of first importance.  It is to be stronger than our sin, and it is to cause us to rejoice in victory.  This is important because I often I hear a defeatism in Lutheranism that keeps continually reminding people that we are sinners (which we are), but doesn't in the same breath remind us that we are in fact freed from sin in Christ whom overcame.
So what we can get with the Sin Boldly mentality is a ho-hum approach that mimics the affect of Eeyore from Winnie the Pooh, (read in an Eeyore voice) "We all sin. Nothin' we can do about it. Might as well not even try."  But, we should take instead for the affect of Paul who said both, "I do not understand what I do for I do not do what I want to do but what I hate to do…it is not I that lives, but the sin that lives in me" (Rom 7:15-17) and " I have been crucified with Christ and I no longer live, but Christ lives in me. The life I live in the body, I live by faith in the Son of God, who loved me and gave himself for me" (Gal 2:20).  We as Lutherans concentrate on Romans and not Galatians.  This is unhealthy, unscriptural, and unhelpful in living the Good News in the world.
So then, as Lutherans, let us only quote the whole phrase now and use it in context to show that we are dependent on Christ.  Let us never use it again to try to prove that sinning is acceptable and endorsed by God.  The reason God forgives our sins is because we did something wrong.  If there was no wrong-doing, then no forgiveness is needed.  Sin Boldly is in fact not a freedom to flagrantly sin, but to wholly depend on Christ when we do sin.
-jpserrano