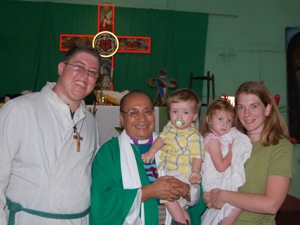 My brother Joshua Serrano wrote on the spiritual discipline of letting your children be noisy in church.  He was inspired by Wes who did a marvelous job explaining why children should be in the pews.  Both of these posts have led me to think, "How do we build a culture within our congregation that allows children to be children in the pews?"
First of all, I get it.  Having children in worship is a challenging thing because as a parent, I don't want my children to be a distraction to others during the service.  Because of this, it's often difficult to be as involved in worship as I would like to be.  Sometimes it's nice to let my children go to Sunday School so I can worship without having to quiet them.
All of this would be unnecessary, however, if in congregations there was a culture of allowing kids to behave like kids–which includes noise, walking around, and even crying.
In 2008, I had the opportunity to go to El Salvador and worship with Bishop Gomez.  During worship the most amazing thing happened.  The little children would get up, walk around, talk to each other, and play (most of the time quietly).  Even during the sermon the Bishop's children would come up to him, hang on his alb, and then just walk away.  Never once was a beat missed during worship.  The culture of the congregation allowed kids to be kids during worship.  The parents' only distraction was making sure the kids hadn't gone out the door, but noise was never an issue because everyone just talked and sung louder.  It was GREAT!
I think we should do the same thing in our churches.
Here is how I think we can build a culture of allowing children to be in church.
1.  Write it in every worship bulletin.
I think including something like the following in the church bulletin would be appropriate.
Welcome to Marty's Lutheran Church.  All are welcome.  No really, we take this pretty seriously; we want everyone here, including the children.  We understand that children are children: they make noise; they run around; they like to play games; they even on occasion cry.  This bothers the parents of the crying child more than it does us as a community.  So please feel free to stay in worship with your children, noise and all.  We have activities for them to do in worship. You can even have them color and play in our play area behind the last pews.  I told you we take this seriously.  All are welcome.  We're glad you're here!
2. During the announcement remind the congregation about the church's stance toward children in worship every Sunday.
Writing something in the bulletin is a first step, but often stuff written down every week eventually goes unnoticed by regular worshippers.  It's important to make a verbal announcement about it as a regular part of your announcement time.  Try to say something very similar every week.  By doing this you are reminding people of the appropriate attitude toward children in worship and giving the adults words to use to explain to others why church may be boisterous.
3. Plant People in the Pews.
This hardest part as a parent is surviving church with your little ones.  Train a small group of people to re-assure parents that the congregation wants all children to be children during worship.  These people should be very friendly and know when it is appropriate to tell parents about the church's culture.  Encourage parents they're doing a good job, especially when their little ones make noise.
4. Put in an activity space where children can play in the Nave (the place where the congregation sits).
I had a chance to walk around many churches in Germany, and I noticed that a significant number of them had small children activity areas (usually a table, some quieter toys, and activities for kids) near the pews.  I then experienced how this actually works in an Episcopal church in San Diego.  I liked it.  The kids could get a little boisterous, but it was not a free-for-all.  The kids seemed to still have a reverence that was appropriate for their age.
5. Worship Bags
Some parent don't want to let their kids get up and go to a play spot.  For these families having a worship activity bag for children is helpful.  It should be stocked with paper, crayons, puzzles, activity books, Bible story books and the like.  I like to hang them in the narthex on hooks so the kids can grab them and return them without the aide of their parent.  I found that supplies need to be restocked on a monthly basis.
6. Teach the culture in new members classes.
I think this is self explanatory.
In order to build a new culture within a congregation you will need lots of buy-in from the people.  It will also take a lot of time (probably 3-5 years).  But, the benefits of having children in worship are worth it.  If you haven't read Kids in the Pews… and The Spiritual Discipline of Parenting: Children in Church I suggest you do so now.
What are your thoughts on creating an accepting culture within church?
-jpserrano